"Another world is possible – let us build it with the women!"
It is impossible to give an exhaustive account of a World Social Forum.The one in Dakar is no exception.With the back up of a few pictures , I would like to supplement to some extent my report in last week's newsletter.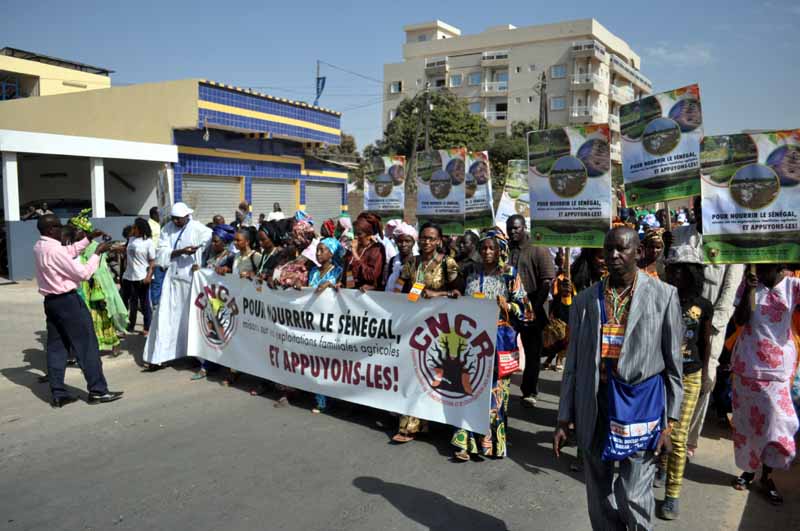 Indeed, even though the subject of food sovereignty was very much present at Dakar, other issues, less often referred to, but just as relevant, should not be forgotten. This was the first time, incidentally, that I saw such a strong attendance of children and young people, who had come to defend their rights.
To start with there was CAINT ( an organisation supporting the national initiative to help children of Koranic schools ), with the slogan : « "No to children begging, yes to modern daaras (Koranic schools), Stop, no more alimonies to street children". » C This theme is particularly relevant for Senegal, but also for other countries such as Mali, Burkina Faso, Niger ... « The etymological definition of "talibé" (or Garibou) is "a disciple or pupil studying the Koran".
These pupils go to dares where their teachers, also called "marabous", teach them the Koran and its ancient cultural values, such as humility, coping with the hardships of life, ascetics ...), but why should these young be identified by their clothes in rags, their unwashed appearance and their begging tin tended towards every passerby?"
These young are boys of 3 – 15 years of age. They have been entrusted to the marabouts by their parents, who often are very poor.
In exchange for the tuition the boys must do housework and contribute to the livelihood of their masters, their families and themselves. They are therefore compelled to beg for this purpose, but often the marabouts force them to bring back additional money and failing to do so means severe corporal punishment." . » (The daara of hope ...)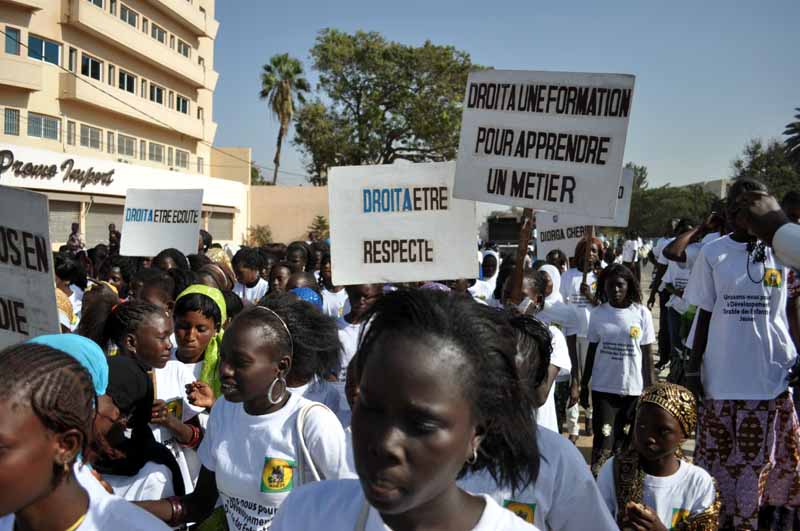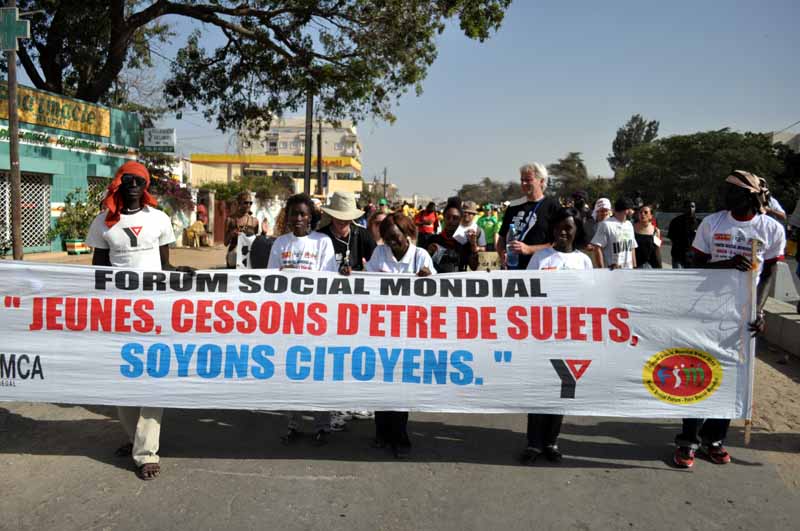 Many children and young people took part at the opening march at the Forum.
They carried billboards claiming their rights: for example "The right to vocational training" The right to be respected, The right to be listened to " … Their T-shirts read: "All united for the wellbeing of children"."
Others carried banners: "Young people – let us stop being subjects and let us become citizens."
A young woman proudly held up her message: "Invest in the education of girls and women in order to change the world!"
Another world is possible, let us build it with the women!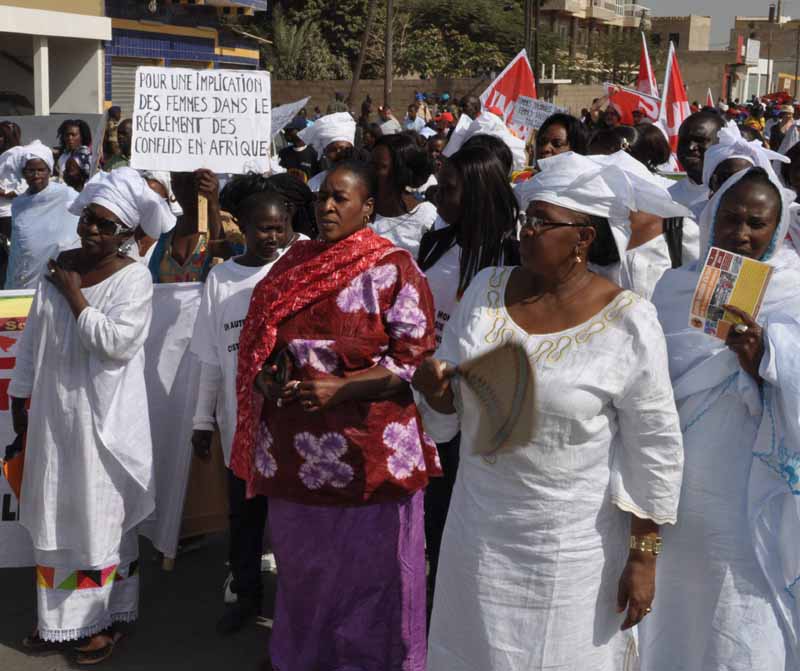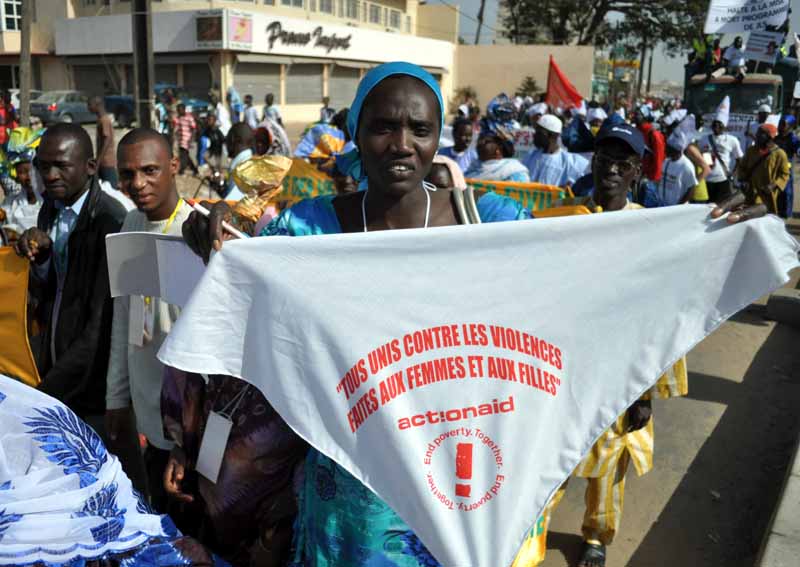 This was a striking feature of the forum : the number and activity of women present. They no longer accept that the world goes on being shaped without them. They say no to war and propose their active participation in the settlement of conflicts. They oppose all violence against women. In their struggle they have the support of Via Campesina, which states in its Dakar Declaration: « In all societies women and girls are subject to financial discrimination and physical violence in various degrees in both public and private life. Domestic violence, human trafficking, sexual harassment, genital mutilation, honorary killings, femicides (killing because a person she is of female sex), rape as an instrument of war, are also part of this horrifying state of affairs. Moreover, 70 % of people living in extreme poverty are women.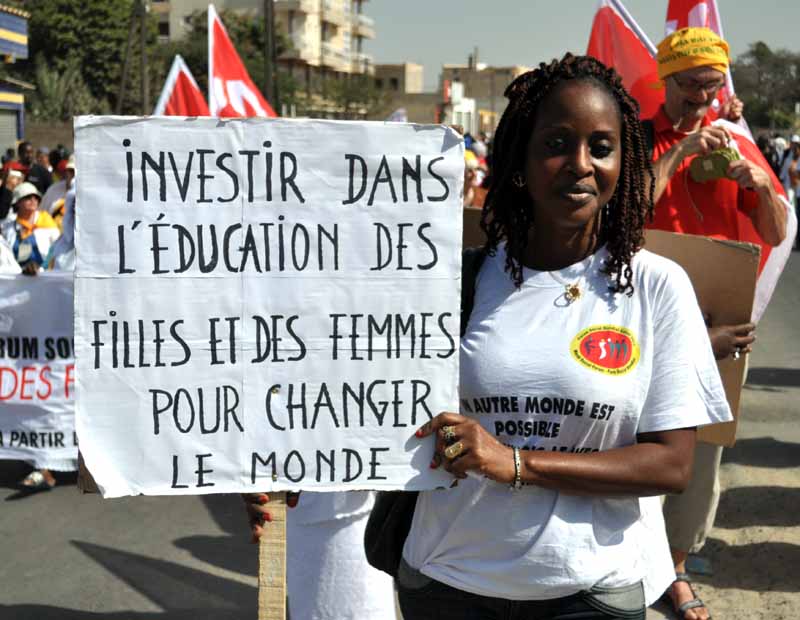 Peasant women are in a situation of severe exclusion and social and financial oppression. Via Campesina has therefore decided to take action, as a farmers' movement, and fight this injustice. "We can not remain silent! In looking away and not speaking up, we become co-responsible for the violence. If we take action we contribute to its eradication and to the building of a society based on equality and justice."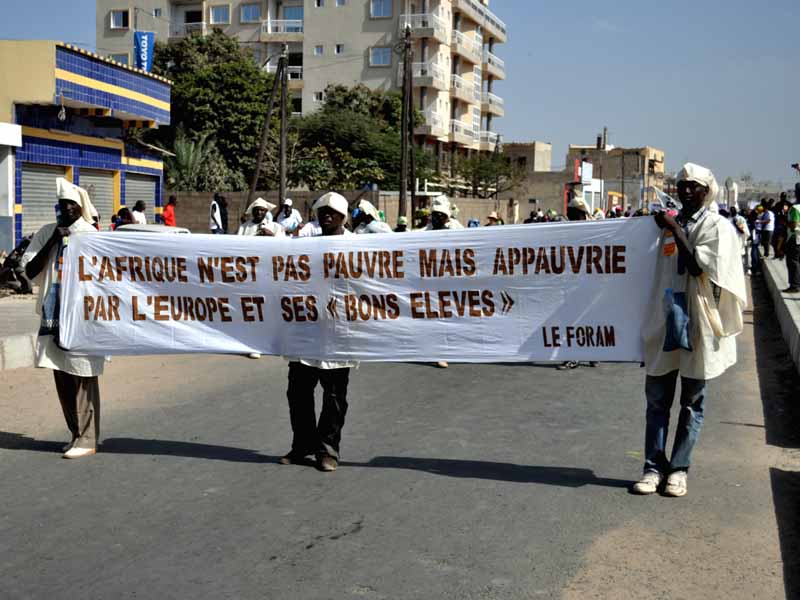 The topic of the EPAs Economic Partnership Agreements) was less mentioned here than in Nairobi. Is this because many believe that West Africa finally will refuse to sign such an agreement, (as Europe is becoming increasingly demanding, or even arrogant? FORAM (Forum for another Mali) has not forgotten to declare its stance on this subject, which is still of present day importance. They state their incontrovertible verdict: " Protecting European frontiers, while demanding of Africa to open up its economy is a crime!" , , "Africa is not poor, its is impoverished, by Europe and its "good apprentices".!
Our next weekly newsletter will report on the FIARA ( (The International Fair of Agriculture and Animal Husbandry)) which took place in Dakar during the World Social Forum. As will be seen, even though food sovereignty is not yet recognised by the international community, a great number of associations, NGOs and farmers' organisations have shown that it is already possible to take small steps and significant action for local production of food of good quality at an affordable price.
Koudougou February 17th 2011
Maurice Oudet
Director , SEDELAN