Modern recipes for traditional menus
This is the second time I visit the FIARA fair in Dakar (Foire Internationale de l'Agriculture et des Ressources Animales), on farming and cattle. Just as much as the first one was a disappointment, this time I was able to see a few significant steps on the way to food sovereignty.
First of all it must be noted that here, as well as at the Forum, nearly all those who exhibited had one aim in common: advancement towards food sovereignty. This was for instance the motto of the stalls of the AOPP of Mali (Association of Farmers' Organisations).Next to them there was the Afrique Verte du Mali (Green Africa, Mali) proclaiming "Sahelians can feed the Sahel".
Indeed, in order to fight for the recognition of food sovereignty one must first of all be convinced that farmers and pastoralists of one's home country are capable of producing enough to feed the entire population. This is a question that many have asked me: "Do you think that the farmers of Burkina Faso are capable of feeding the whole population?" To this I usually reply: "Certainly! They are doing fairly well already, under difficult national and international circumstances (no national farm and food policy and no customs duties to protect them at the international level). With a minimum of such protection and a good policy, Burkina will become a net exporter of farm products and foodstuffs in a few years. If we then move on to the more accurate scale of the West African Economic Community, ECOWAS, we must extend the scope further: West Africa may become a great worldwide food and agricultural power. It has all it takes to do so, land, water, sunshine and men and women who till the soil. The only thing missing is an adequate policy and a sufficient level of protection."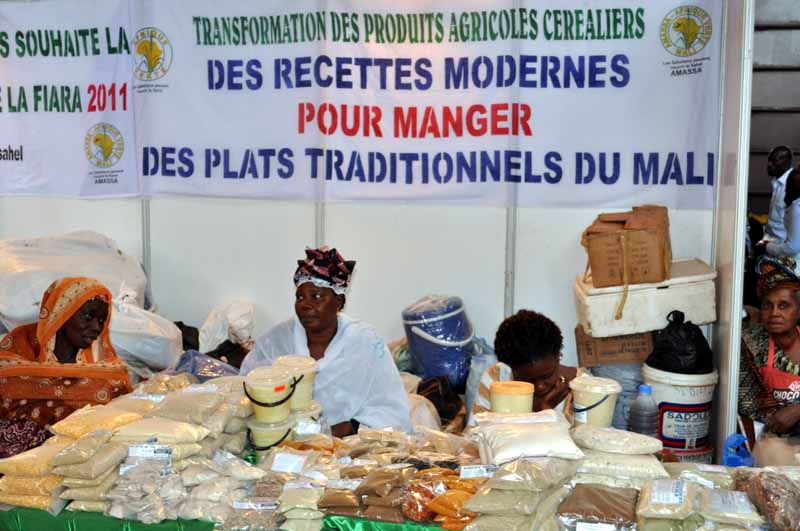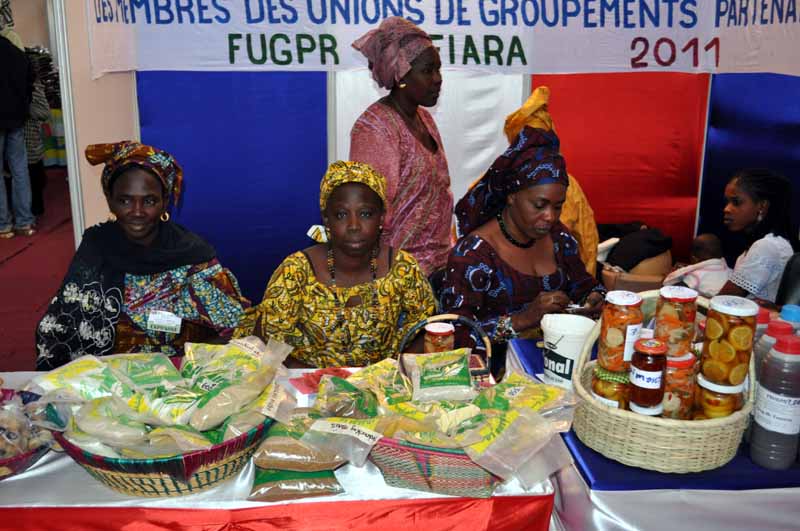 Modern recipes for traditional food 4. Women showing new ways to make cooking easier I quite liked the slogan presented by the women of Mali for their grain products: "Modern recipes for traditional menus" (slightly changed by me to cover a number of other countries as well, i.e. Niger or Burkina). It is most important to give a modern touch to traditional menus and products, especially to address the young public. Otherwise youngsters, who only have access to national television, which exclusively advertises imported food products, will turn away from traditional food. Already they have taken the habit, from Dakar to N'Djamena, to refer to tô - the traditional millet paste, served with sauce - as "Afrique en danger" (Africa in danger). It is high time for national TV-channels, which purport to be public service media, to give more attention to local products and promote them.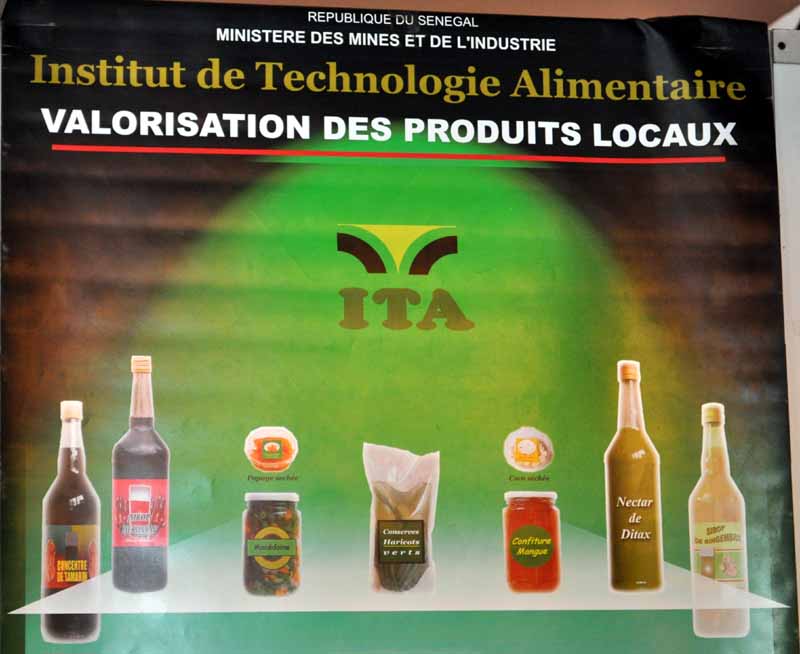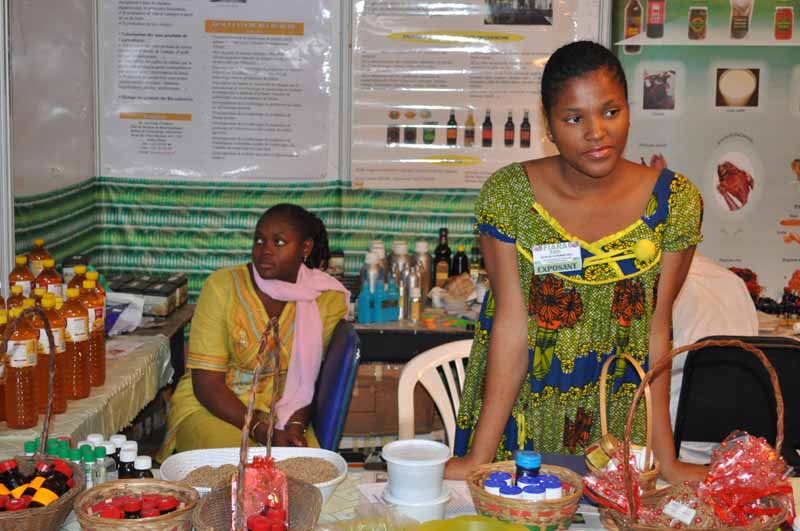 - good quality and sustainable cost Equally interesting were the stalls of the ITA (Institut de Technologie Alimentaire) , the Food Technology Institute, which works to enhance the valuation of local products and has set up a centralised purchasing agency for packaging materials. According to one ITA member, the agency helps small food processing businesses to obtain a 50% discount on packaging through collective purchasing and a subsidy. Seeing this stall and recalling the high cost of food packaging in Burkina Faso, I wondered: "What is the government of Burkina waiting for to set up a similar structure?"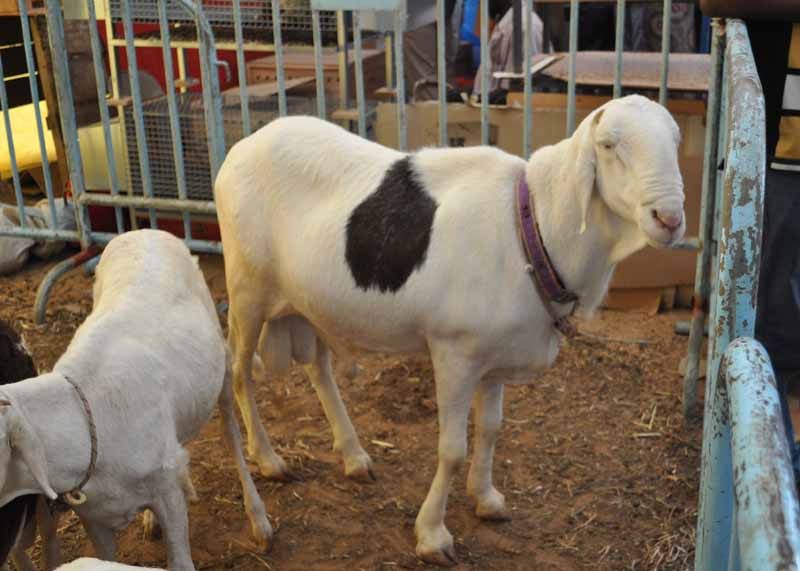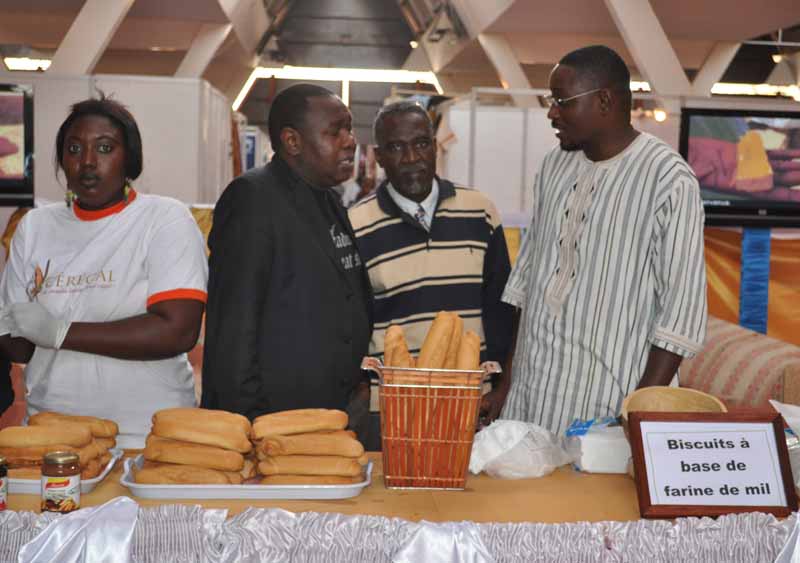 This 12th FIARA Fair was rather poor with regard to the Animal Resources section. Nevertheless, there one could admire animals such as ostriches, rabbits, geese … and some nice sheep, like the magnificent "laadoum" (see picture).
To conclude it must also be mentioned that a remarkable feature at the Fair was the first samples of bread made with up to 40% of local cereals mixed with wheat flour. The test was a success and if followed up by all bakers in Senegal, and later on West Africa, a big step could be taken towards food sovereignty and precious savings of national currency assets! There will be more on the subject!
Koudougou February 19th 2011
Maurice Oudet
Director, SEDELAN