Her cow is dead - she has lost everything
On December 3rd 2005 (shortly before the ministerial meeting of the World Trade Organisation in Hong Kong) the young National Confederation of Farmers' Unions of Burkina Faso (Confédération Nationale Paysanne) showed that it has reached maturity. For the first time in history the people of Ouagadougou witnessed a march and a gathering at the Place de la Nation of 2 500 peasant farmers arriving from the 45 provinces of the country. They called for the recognition of food sovereignty as a right. Among them the Fulani herder women from the the Hamdalaye area of Ouagadougou turned up in great numbers, carrying their large calabashes with the inscription "COWBELL is not our milk" on their heads.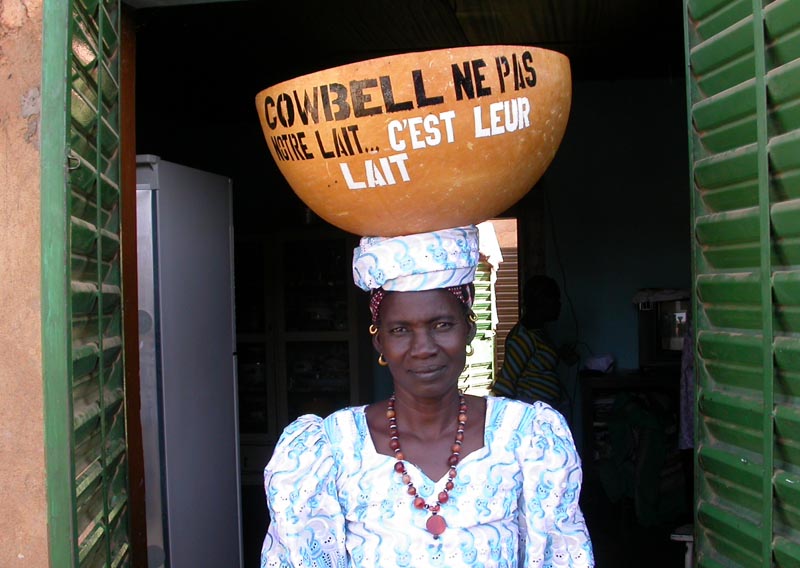 This was their reaction to an advertising campaign for imported milk powder (Cowbell is a South African trade mark) which, on the contrary, stated: "COWBELL, our milk". During the event I took a number of pictures, one of them the photo on the left.Now a few days ago the only cow this woman (a widow) possessed died.. The only income she had for a living was the sale of milk from her cow. I know that the picture has travelled all over the world. It has been the cover page of several magazines.
I thought it would be fair and right that all those who have published the picture be informed of the situation of this woman,as well a you, the readers of our weekly newsletter. There are many of us who fight for worldwide recognition of the right to food sovereignty. It should be known that among us there are men and women who do not even have the certainty of securing their basic needs. This woman is one of them.
At the time of the Christmas holidays and the New Year I volunteer as an intermediary between the widow and those who wish to make a donation so that together we can offer her a new cow. All those who wish to show their solidarity can reply to this letter and we will send them the necessary details for a rapid transfer of their gift to this woman.
If donations exceed the needs, we will offer a cow to other widows in Hamdalye in a similar situation (there are at least six). If funds remain, I suggest that they be used to set up a mini-dairy in a Fulani herder community somewhere in the interior part of the country. We will keep you informed.
Koudougou, December 16th 2010
Maurice Oudet
Director, SEDELAN