In charge of a big building site!
As of January this year Andreas Göpfert of SEDELAN has left Koudougou for Sikasso, Mali. Together with Bernard Delay he is in charge of the Research Centre for the Promotion of Senoufo Culture. He has just sent us a communication, which we believe deserves to be shared ! In order to better understand it, you should know that it deals just as much with the Senoufo people as with the language and the culture. Senoufo people are present in Mali, Burkina Faso and Ivory Coast.
In 2005, our confrere Emilio Escudero founded the "Centre de Recherche pour la Sauvegarde et la Promotion de la Culture Sénoufo", le CRSPCS (Research Center for the Promotion of Senoufo Culture) in Sikasso, Mali. In almost 50 years of missionary life among the Sénoufo in the south of Mali, he had acquired the interpersonal skills, the know-how, and way of communicating which opened all the doors of the Sénoufo people to him. The dream of his life came true by the building of this Centre. He had great ambitions for it, maybe too great!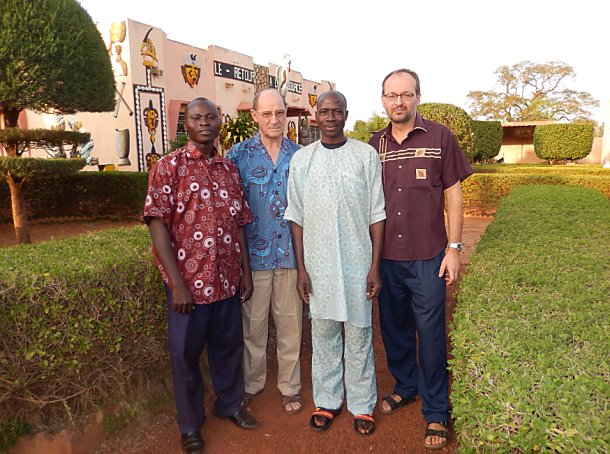 Bernard Delay and Andreas Göpfert with two collaborators of the centre; Mr. Elie Bamba and Mr. Zacharie Traore.


The sudden death of Fr. Emilio ( To see the buildings of the Museum) on the 2nd November 2012 left everybody in Sikasso shocked and saddened. The question of the future of the Centre immediately became an issue... The Centre attracts all kinds of people Since January 2014, we have landed in magnificent surroundings, unique in Sikasso. The Centre has a garden, with life size statutes and decorated walls. This attracts lots of people, particularly many couples, newly married at the town hall, who come to perpetually mark the event by beautiful photos. This means that every Thursday and Sunday noisy and happy groups invade us. The din is amplified by the cries of the traditional singers who offer all kinds of blessings in the hope of earning something to eat. Five, ten, fifteen, and sometimes even twenty-five couples with their guests invade all the corners of the garden. Unfortunately, this splendid setting deteriorates very quickly and there is a constant challenge to maintain and to renovate this delicate environment. That is already the first challenge.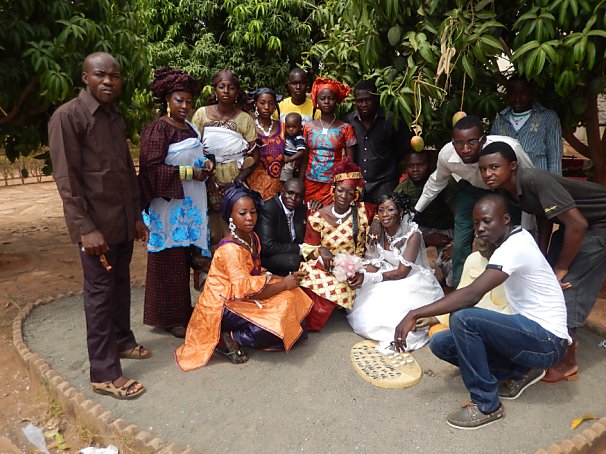 Young married couples taking photographs in the courtyard of the Senoufo Centre.
Towards self financing
We have also discovered unfinished infrastructures or buildings which do not realise their full potential but which could allow the Centre to take a step towards self-financing. Twelve rooms could be put at the disposition of visitors. There is also a Conference Hall. How can we get the most out of these installations? The survival of the Centre may depend on it.
A hidden treasure
When we searched the cupboards and drawers, going through the files kept on the computers and the USB keys and the external modems, we discovered a huge collection of material on all aspects of Sénoufo life in the Sikasso region. Statues du musée An enormous (almost) hidden treasure of more than 400 tape recordings, tens of thousands of photos, hundreds of copybooks filled with stories, riddles, proverbs all transcribed and provisionally translated into French. There were also case studies of villages, writings on the Supyiire language, grammars, and dictionaries. These texts are in digital form but not complete.
This is another enormous challenge. We were thinking, firstly, that all we had to do was to complete the research already well underway and all that needed to be done to the building was to put on the roof. However, we now know that it will be necessary to work on the foundations and raise the walls. Now, we have begun to work on the index of the Sénoufo folk tales. We intend to publish a collection of works as homage to Fr. Emilio. This is an urgent task because the documents at the Centre are not protected in any way by copyright and over the years, many visitors have had easy access to the collections of objects and to the documents of the Centre.
A renowned museum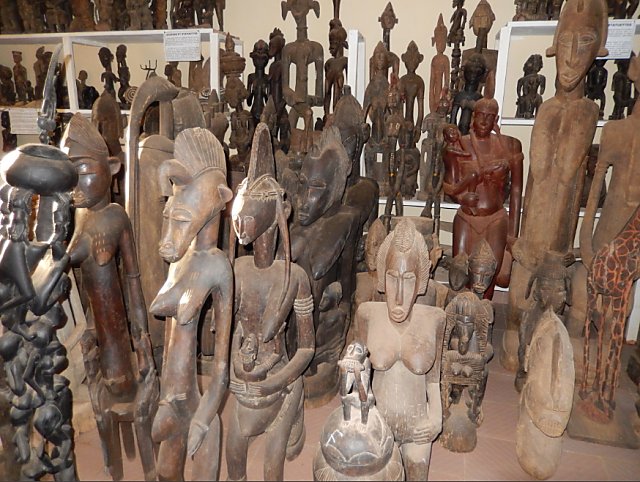 The Centre has gained an extraordinary reputation thanks to its museum. Visitors can see hundreds of masks, statuettes, and musical instruments. There are many other objects, in wood, pottery, and bronze, nearly all of Sénoufo origin but also representing other ethnic groups in Mali. Schoolchildren, students, Malian adults, foreigners from neighbouring regions, tourists from all over the world come to admire the rich local, regional, and national patrimony on display at the museum. Our visitors appreciate, with amazement, the treasure collected by Fr. Emilio over many years.
Unfortunately, in our climatic environment some objects, especially those in wood, demand a structure more favourable to their conservation. There is also a question of getting a valuation for the objects and ensuring their security. The buildings that presently serve as the exhibition halls are not adequate for the demands of long-term conservation and security of these objects. Many visitors, who are experts in this field, have challenged us on this already. This is yet another challenge we have to face.
Encounter and Dialogue
The Sénoufo Centre is an extraordinary place where people come and meet one another. We are surprised at the number of visitors of all ages, professions, ethnic groups, religions, and different nationalities. It is a meeting place where we have our role to play.
For example, schoolchildren come out of curiosity or maybe because their teachers of history or art send them to become impregnated with Sénoufo culture. We are looking for a better collaboration with educational circles in Sikasso. We intend to visit schools and colleges offering support to teachers of history, geography, and art and to support cultural groups such as the UNESCO clubs..
To know one's culture, to conserve the witness of the past; yes but in view of what? We would like that the Sénoufo Centre would help everybody to understand better his or her traditional culture and the influence it has on his or her actual life and to reflect on what this heritage can bring and on how to get the best out of it. In a very particular way, we will put forward to Christians on ways they can reflect on actual situations, which are marked by the culture and traditional religions in order to see how they can live in greater fidelity to Christ who is at the heart of the world today.
Living the encounter and practising the dialogue is a deed that, by basing ourselves on the culture, will be our way of building social cohesion in Mali. We cultivate mutual respect, search for, and develop the values that can help us live together. That is our challenge,
Bernard Delay and Andreas Göpfert
Sénoufo Centre, Sikasso, Mali