Fulani herders are now demanding a primary school !
Some years ago, I met with atBittou, a group of Fulani women in the village of Bittou. They had just completed Bittou. their second literacy training course in Fulfulde (pronounced fullfulldé), their mother tongue.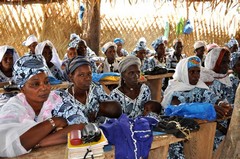 At the end of our encounter one woman stood up to demand, on behalf of the other women attending the meeting, the setting up of a primary school for Signoghintheir village ». I found this a good thing and told them to convey this to their husbands. Then I went back to Koudougou, and the request fell into oblivion.
A few months later the woman who runs the local dairy called me to tell me that this time the husbands were ready to go along with them: "They back up the request of their wives and they too now demand a primary school". I appreciated their demand, and told them: "If they want to have support from us they must make a formal request to the Primary School Inspectorate."
So thereupon representatives of Fulani herdsmen and pastoralists of Signoghin went to the PrimarySchool Inspectorate and werereceived by the inspector himself. They introduced themselves and the leader of the delegation explained the reasons for their visit. "We have come to tell you sir, that we need a school for our village, Signoghin. We want to have a primary school like the other villages of Burkina Faso."The inspector was quite surprised. Not only had he never had such a request from the Fulani, (their main occupation consisting of raising their cattle herds*). He was, on the contrary, rather convinced that the often repeated opinion about the Fulani even refusing school was correct… Therefore he questioned them: "Who told you to ask for a school?" "Nobody", they answered, "we are the ones who want the school".
L'Inspecteur a favorablement accueilli leur demande ; puis il a ajouté : The demand was well received by the inspector, who added: "Unfortunately we do not have the necessary means to finance the school. But if you can have it built in compliance with government standards, we will take care of the official approval of the building and provide the teachers. Of course you can also follow the example of many other villages in Burkina, you can ask your friends here and abroad for support".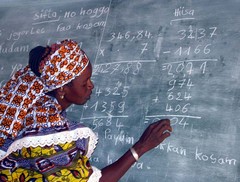 Thus a, few days laterI learnt that the Primary School Inspectorate had approved the construction project of the school and that the Fulani herders ofSignoghin were asking for our contribution. As the SEDELAN (Service d'Édition en Langues Nationales) does not have the funds for financing such a project, I turned to a French international solidarity NGO, but in vain. However wecontinued our contacts with the Fulani.
I have opened a number ofFulfulde literacy centres. The women have always turned up in large numbers with a lot of enthusiasm. Sometimes the women who had completed their first year of literacy, and often those who had done the second year, registered their children for school as soon as possible..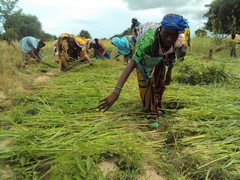 I have seen an old woman with her cellphone hung like a pendant from a necklace.
She told me that previously she had observed some new kind of illness, seeing men walking about, talking aloud by themselves and holding a hand to their ear.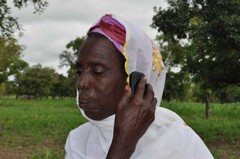 And she went on: "And today me too, I am proud to have a cellphone, proud to be able : « to write in Fulfulde and send text messages to my children." .
We have since then had some time to give additional thought to our school project. First of all to resolutely opt for a bilingual primary school. Because the first mission of a school is to teach children to think. And how can children be taught to think in a language that they do not understand? A bilingual school is always a good thing forchildren who do not yet understand French, and it is a necessity for a Fulani community. It will make them see the importance of a school, where they will learn to discuss events in their village, their family … A school where parents can talk to teachers in their own language. We are therefore going to adapt the teaching programmes to suit Fulani families.
Our project will consist of three stages:
In the short term we want to offer the population of

Signoghin

in cooperation with the Inspectorate of Primary Education, the Municipality and the Director of Animal Resources of the Province, a bilingual (Fulfulde-French) school with 5 classes and an outdoor droof-covered pavilion the size of one classroom:
a building consisting of one office/storeroom and two classrooms, with an open roof top space in between.
A well and a kitchen … Another building will hold a meeting room and 3 classrooms, WCs and solar electricity.
We wish to extend the project with a vocational training programme for young people, and also for adults, technical college or educational home …our ideas are not yet definite, but at any rate a place where the students' native Fulfulde language is never absent) : teaching various kinds of animal husbandry and milk processing (using the

Bittou

, dairy plant as a base, one of the oldest in

Burkina

).
And in the end, we wish to create an educational and technical training centre (for animal husbandry and milk processing) adapted to the needs of the herding community, children, young and adults.
3. It is now nearly 5 years since my publication of two newsletters with the same heading
The first : "After the Touareg issue it is the Fulani issue that will raise its head in this region"
(sub-title : What can we do to stop this prophecy from coming true?)
The second: "The worst is never a certainty".
Since then the "Macina Front de libération" Amadou Koufa, created by a Fulani, Amadou Koufa, has taken on the responsibility for several killing attacks in neighbouring Mali.
Therefore there is a third part of the training programme.
We will provide education in civics, the rights of men, women and children, conflict prevention and management , and environmental protection, in cooperation with the Mayor, the municipal council and health services … all with the purpose of facilitating social integration.
Our ambition is two-fold:
1.1. That the training centre will help all Fulani of Burkina to change their perception of education and technical training (milk processing and animal feed). That the Fulani will come to understand the importance of education for their children, all the way through to high school (general education and technical college). That the centre will help the Fulani to change their perception of society, the environment, the world … and thereby facilitating social integration.
2. 2.That the educational centre will help all burkinabè citizens to change their perception of the Fulani. The Fulani of today are not he same as the Fulani at the time of independence. Following this line, most of the time the training courses will be open to all, but with special preference given to Fulani herders.
However we cannot carry such a project alone., The first target group (the Fulani herders ofSignoghin) have already raised 1 million FCFA. The municipal Bittou council has put up 2.5 million FCFA and a number of friends have declared their willingness support us. In particular an association in Bretagne, France (abadas.bzh) has already made a commitment to join us. But regardless of whether it is the ABADAS or theSEDELAN, at the helm of the project, we need you, your friends and all those eager to build a world where there is room, respect and brotherhood for all.
Your contributions will not only be welcome : they are desired, wished, indispensable. Withoutyou we will not even be able to carry out the first stage of our project.
With you all is possible. Together we will set up a centre of excellenceincluding the three dimensions mentioned above.
We count on our friends in France, Belgium, Switzerland and Canada … and the whole world.And also with the participation of many Burkinabè citizens.. If one thousand of them send 1000 each we will already have a million ! To do this you may use one of the telephone money transfer systems below:
OrangeMoney (anciennement AirtelMoney) : (226) 77 23 63 78
Mobicach : (226) 60 19 51 76
You can also send us your contribution to the SEDELAN bank account UBA in Koudougou at the United Bank of Africa, UBA.
Clic here : UBA
Thank you !
Koudougou, April 27, 2017
Maurice Oudet
Editor/Director SEDELAN